DIY Decks
Build Your Dream Vinyl Deck: DIY Made Easy
Get the deck you've always wanted with high-quality materials from Vinyl Fence Forever. Our DIY deck materials make building your own deck simple.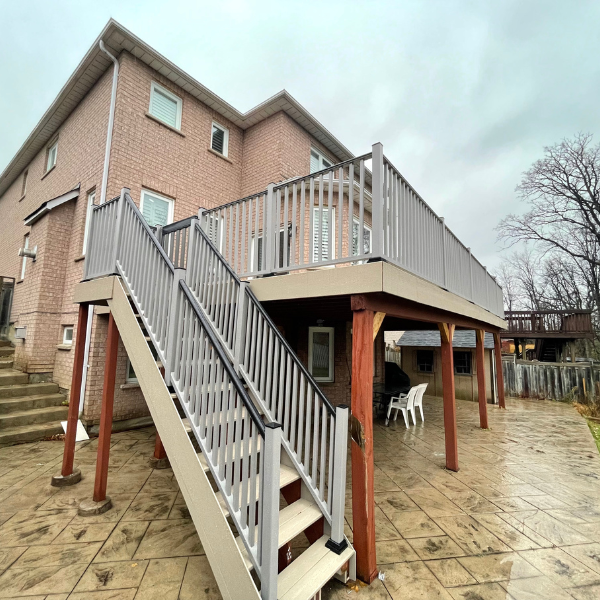 Vinyl decks are commonly used in outdoor areas such as backyards, patios, balconies, and decks. They are a popular choice for residential and commercial properties due to their durability, low maintenance, and ability to withstand harsh weather conditions. Vinyl decks are also a good option for areas with high moisture levels, such as near swimming pools or in cold environments, as they are resistant to mold, mildew, and rot.
Choose from a selection of vinyl deck materials, styles, and colours to personalize your design to your vision and style. When you order from Vinyl Fence Forever, we'll include all the materials you need, from boards to screws. Our teams will also guide you to ensure you get the most out of your decks.
Where to Install Your Vinyl Deck
When constructing your own vinyl deck, the choices are all yours. Vinyl decks are a great option for outdoor spaces. The clean and simple aesthetic of vinyl decks increases the functionality of your space for years of use.
Vinyl Decks are popular for commercial and residential properties. They're often used in backyards, patios, and balconies. Their inherent water resistance makes them perfect for swimming pools, hot tubs, and spas.
Explore the Possibilities of Your DIY Vinyl Deck: Contact Vinyl Fence Forever.
Realize the Benefits of DIY Deck Pick-Up
Take your deck into your own hands. Opt for our simple DIY deck services that allow you to build your deck with the best vinyl deck materials and expert guidance from the Vinyl Fence Forever team. Whether you prefer a classic white picket fence or a modern, sleek design, vinyl fences offer endless possibilities to elevate the look of your outdoor space.
Cost-Effective: Eliminate installation costs and get top-quality materials at an affordable price, saving you on the cost of your premium vinyl deck.
Customization: Tailor your deck to your unique needs and project requirements, and choose the size and style based on the exact needs of your outdoor space. With DIY decks, you're free to get creative.
Expert Advice: From choosing the best deck materials to installation, you're never truly on your own with your DIY vinyl deck. The experienced professionals at Vinyl Fence Forever are here to answer your questions and guide you, giving you the tools you need to tackle the project successfully.
Convenience: When you build your DIY deck, you work on your schedule. Once you pick up your vinyl deck materials, you can start constructing your dream vinyl deck, saving you time and hassle.
Satisfaction: Building your own vinyl deck can be a rewarding experience, and with DIY installation, you can take pride in creating a space that perfectly suits your needs and style. A vinyl deck can provide many years of low-maintenance outdoor enjoyment with proper installation.
ORDER YOUR QUALITY DECK MATERIALS
Why Choose Vinyl Fence Forever for DIY Deck Materials
Vinyl Fence Forever is the leading supplier of vinyl decks and fences in Toronto and the surrounding Greater Toronto Area. We have provided commercial and residential property owners high-quality solutions for over 15 years. Customers continue to choose Vinyl Fence Forever for our premium materials, high-calibre workmanship, and commitment to customer service. We're here for you every step of the way.