Vinyl Fences
A front or backyard fence is a core component of any home. It provides protection and privacy while adding to the overall aesthetic. Some families dream of one day owning a white picket fence, while others may require a fence in order to install a pool in their yard. No matter the reason, with many available styles and materials for fencing, it can be hard to know where to begin.
What is Vinyl Fencing?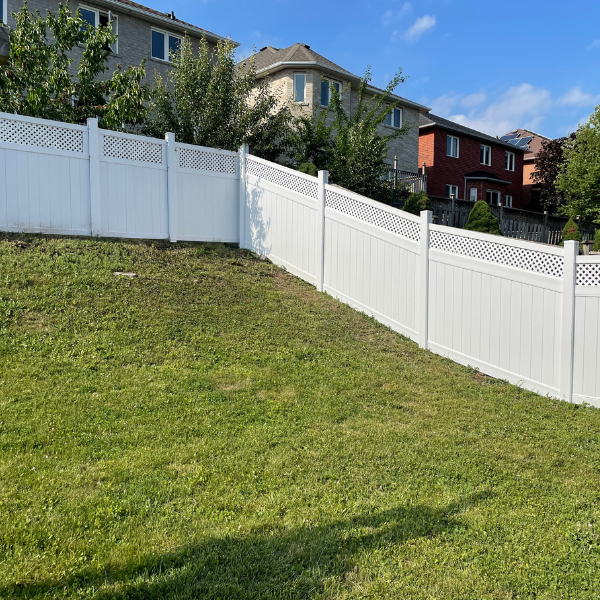 Vinyl fencing is quickly becoming a popular alternative to traditional wooden or chain link backyard fences due to its superior durability and aesthetic appeal. Unlike traditional fences, vinyl fencing has a longer lifespan because it doesn't fade, warp, or rot, and requires little to no maintenance to enjoy years of use. Constructed of a combination of polyvinyl chloride (PVC) resin, and other special materials, vinyl offers enhanced flexibility and weatherability, making it an optimal fencing material.
Vinyl Fence Forever has been providing homes throughout Toronto & the GTA with beautiful vinyl fencing for over 15 years. Our unique installation method uses cement-free posts, so your vinyl fence installation is quick and clean - we can completely install vinyl fencing for your home in as little as one day. Using only high-quality, Canadian-made products and the best construction practices, you can rely on Vinyl Fence Forever to expertly install vinyl fencing in a variety of styles and colours, and create the landscape you've always wanted for your home!
Vinyl Fence Options at Vinyl Fence Forever
Classic Vinyl Fencing
Long-lasting and durable, vinyl fencing comes in a variety of sizes and styles to match both your home and outdoor living space. With a classic style of vinyl fencing, you will be able to achieve full privacy from neighbours and complete protection for any backyard pools. This is a great option for anyone looking for a traditional fence that will last for years without fading, warping or rotting.
Two-Rail Vinyl Fencing
Two-Rail vinyl fencing offers the aesthetic appeal and durability of classic vinyl fences, but with maxium privacy in mind. Enjoy reduced external visibility into your backyard, and enhanced security for you and your family.
Vinyl Fencing with Lattice
Vinyl fencing with an upper lattice provides outside visibility while still allowing you to maintain your privacy. Integrating lattice-detail into your new vinyl fence will also allow you to incorporate ivy or other crawling plants into your landscape design. This will improve privacy and the overall aesthetic of your outdoor living space. It creates a dynamic, living environment to escape to in the comfort of your own backyard.
Picket Vinyl Fencing
Many people dream of one day owning a white picket fence. It is a classic addition to any front or backyard and choosing a vinyl option will keep your white picket fence looking crisp for years. With improved durability and longevity over traditional wooden picket fences, a vinyl picket fence will always keep your white picket fence looking freshly painted, no maintenance required!
Vinyl Fences According to Your Style
For stunning, durable fencing that will last for decades without fading, warping or rotting, choose vinyl fencing with the help of Vinyl Fence Forever. With our wide selection of vinyl fence colours and styles, there really is an option for every family to provide beautiful, long-lasting security and privacy to their home. Choose from our standard colours white and tan, or non-standard colours such as black, charcoal, and brown.
Our team has proudly helped homeowners in Toronto and the entire GTA to create beautiful backyard landscapes, secured front yards, and vinyl safety fences, as well as decks and railings.
For more information on any of our vinyl fence options or to get started purchasing your new vinyl fence or deck, contact the vinyl fence experts at Vinyl Fence Forever today at 1-855-864-9274.