Modern Stainless Steel Glass Railings
Choose high-quality railings that deliver durability and design with Vinyl Fence Forever.
Our customizable selection of stainless steel railings allow you to upgrade your space with innovative and stylish glass railings.
Sleek & Functional Railings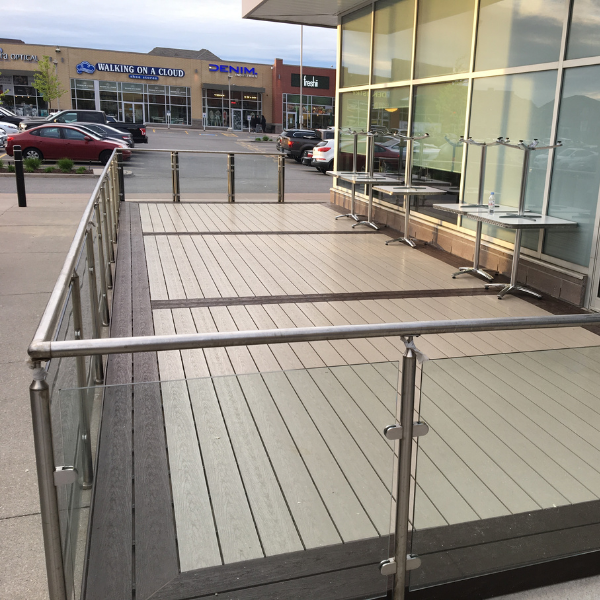 Let all the beautiful design elements of your space shine with functional glass railings that enable security and safety around your property without interfering with the design. Whether you're looking to create enclosures around the perimeter of your property with glass stainless steel railings or throughout interior spaces, Vinyl Fence Forever offers custom stainless steel railing options.
Blending neatly into the space around them, stainless steel glass railings are durable and long-lasting. Engineered with 12mm tempered glass and strong stainless steel, our selection of stainless steel glass railings come in both 36-inch and 42-inch panes, fit neatly into the space for years of durable and long-lasting performance.
Stainless Steel Glass Railings Fit Everywhere
The contemporary style and sturdiness of stainless steel glass railings gives you options of where you want to install them. Whether you want to line a stairway, decks, or balcony, stainless steel railings are versatile enough to do it all, and more.
When you choose our stainless steel glass railings at Vinyl Fence Forever, you don't have to choose between indoor or outdoor applications, our railings can do both.
Secure Your Property with Stainless Steel Railings
Stainless steel railings from Vinyl Fence Forever go beyond beautiful aesthetics. The strong railings are engineered to create long-lasting barriers between hazardous heights and dangerous intruders. Move safely around rooftops, stairs, and balconies with secure installation and durable stainless steel railings and glass panes that can withstand what Canadian weather throws its way, keeping you, your property, and your family safe.
Benefits of Stainless Steel Railings with Vinyl Fence Forever
For all your modern fencing and railing needs, Vinyl Fence Forever is the top choice in the Greater Toronto Area.
Dedicated Customer Service: The Vinyl Fence Forever team is there to guide you and serve you from start to finish. From choosing the right railing solution for your space through installation, you can count on our team for dedicated service. We're here for you.
Quality from Start to Finish: We never compromise on quality from fencing materials to installation services, Vinyl Fence Forever delivers railing materials and installation designed to last.
15 Years of Business: For more than a decade, Vinyl Fence Forever has been delivering high-quality solutions to property owners throughout the Greater Toronto Area. With years of experience and expertise, you can count on us for knowledge on the most recent trends and the best industry practices.
Installation Warranty: We want all of our customers to feel the same confidence we do in our products and our installations. Vinyl Fence Forever offers a two-year warranty on all of our installations and an additional warranty on our railings.
Competitive Pricing: Get the beautiful stainless steel glass railings you love at a price that makes sense for your budget. At Vinyl Fence Forever, we do our best to work within your budget, offering extremely competitive pricing.
Ready to Upgrade Your Railings? Contact Us Today