DIY Fences
Customize Your Outdoor Space with DIY Vinyl Fences
Transform your space with a beautiful vinyl fence from Vinyl Fence Forever. Our high-quality materials and expert guidance make building your own fence a breeze.
Streamline your vinyl fence installation and maximize quality with DIY Vinyl Fence kits from Vinyl Fence Forever.
Choose Durable, Low Maintenance, and Weather-Resistant DIY Fence Materials.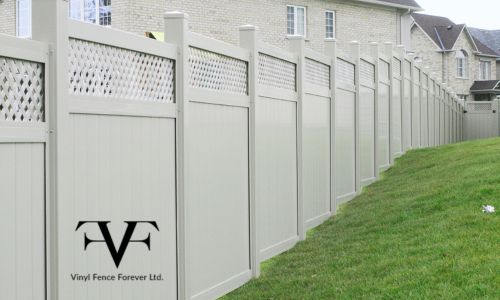 Vinyl fence materials from Vinyl Fence Forever are a low-maintenance alternative to traditional wood fences. Our high-quality products extend the aesthetic and longevity by preventing your fence from water damage and contaminants. Available in various colours, and sizes, handpick your favourites to tailor your vinyl fence to your style and space.
Upgrade Your Curb-Appeal & Enhance Your Property
Vinyl fences are inherently versatile. DIY vinyl fence material kits from Vinyl Fence Forever can be used to enclose your property for a modern, clean, and stylish finish.
Popular among residential and commercial properties, you can install vinyl fences to establish and define boundaries, enhance privacy, and improve your outdoor aesthetics. On residential properties, vinyl fences are ideal for the backyard, front yard, and even garden enclosures. DIY vinyl fences are also used to surround swimming pools and hot tubs to improve privacy.
In commercial settings, vinyl fences are popular in parks, schools, and businesses to define boundaries and maximize security.
With premium DIY vinyl fence material kits from Vinyl Fence Forever, the choice is yours.
Experience the Satisfaction of DIY Vinyl Fence Installation
At Vinyl Fence Forever, we offer simple and affordable DIY fence services, allowing you to build your own fence with top-quality materials and expert guidance from our team. The benefits of DIY installation are numerous and include the following:
Cost Savings: Get the quality materials but skip the cost of installation with premium kits that allow you to DIY your project at a cost-effective price.
Tailored Customization: Maximize control over your project from size and style to design. Ensure your fence is tailored to your unique needs and aligned with your personal taste.
Expert Guidance: Rely on our expertise as you need it. Our team of professionals are here to provide support and guidance to help you choose the best fencing options and installation techniques for long-lasting results.
Flexibility & Convenience: Ensure your project is completed according to your timeline with a DIY approach to vinyl fence installation.
Personal Satisfaction: Take pride in taking matters into your own hands with your customized and self-installed DIY Fence.
Choose from a range of vinyl fence materials, styles, and colors and tailor your fence design to according to your vision and style. The materials included in our premium vinyl fence kits, from panels to posts and screws, are of the highest quality to ensure long-lasting and beautiful results. Our experienced team is committed to guiding customers through the entire process, from selecting the right materials to successful installation, ensuring a hassle-free experience and the best possible outcome.
Why Choose Vinyl Fence Forever for Your DIY Fences
Vinyl Fence Forever is the Greater Toronto Area's top choice for premium vinyl fences. Our team provides a range of fencing solutions, high-quality materials, and dedicated customer services to ensure you get a final product you love. We provide convenient pick-up and customer support throughout your DIY Fence installation.